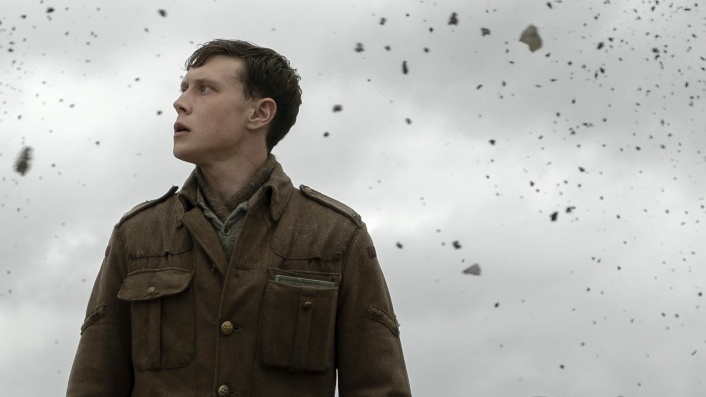 1917 is a triumph of technique with some startlingly surreal sights

---
Set in the trenches of World War One, the new film from director Sam Mendes is a triumph of technique – but a production that has questionable outcomes, writes critic Craig Mathieson.
While you can spot the odd seam, 1917 (see all movies now playing in cinemas) is meant to evoke a single take – exhausting, dizzying, terrifying – through the horrors of the western front during World War One. The camera, marshalled by that masterful cinematographer Roger Deakins, follows in the stumbled steps or edges ahead of a pair of increasingly desperate British soldiers, who have been ordered to carry orders nine miles through no man's land and retreating Germans to a 1,600 strong battalion walking into an ambush at dawn. The banality of war, the sitting around pretending death is not imminent, is negated by momentum. The film charges ahead, refusing to leave you behind – or allow for contemplation.
With its echoes of Christopher Nolan's Dunkirk, and the long, showy Dunkirk take from Joe Wright's Atonement, 1917 is dazzling but pre-ordained. It aims to put you in the moment, but sometimes that moment feels like a video game, complete with a famous British actor such as Colin Firth or Benedict Cumberbatch briefly providing the cut scene that links the action together. Sometimes, however, the transitions are more subtle and assiduously disturbing, as when a long journey through trenches suddenly goes vertically up, and you feel as if you've gone from one reality to the next as the landscape changes. It's worth noting that Mendes himself, fresh from a pair of Bond blockbusters, has examined this outlook before, with 2005's pitch black Jarhead.
Sign up for Flicks updates
As the pair of lance corporals assigned the task, Dean-Charles Chapman and George McKay's respective Joseph Blake and Will Schofield are shaded by different motivations. Blake is eager and inexperienced, motivated by his brother being one of the men headed into a trap. Schofield is a comparative veteran, having survived the carnage of the Somme the previous year, who is emotionally hollow and merely hoping to survive. Their exchanges are sometimes awkward, because the narrative keeps plunging them into danger. The film wants to make clear that war is hellish, but the sheer succession of events feels studied; an encounter with a French civilian feels like it was ticked off a master list maintained by Mendes and co-writer Krysty Wilson-Cairns.
There are startling moments and surreal sightings, particularly when the battlefield without combatants is revealed as an abandoned industrial machine, but warfare is only dissected in its reactive immediacy. A sardonic turn from Andrew Scott as a frontline Lieutenant without illusions is effective – "chin up, there's a medal in it," he remarks before sending the messengers to what he imagines is their death – but compressing the window of engagement and giving Blake and Schofield heroic endeavour removes a deeper consideration. Stanley Kubrick struck a far harsher note about the cruel inequities of World War One 60 years ago with Paths of Glory. You're left to think that in this retelling of a conflict where the haves and the have-nots were starkly divided, that the figure whose sense of overbearing control is palpable here is not any general but Sam Mendes himself.