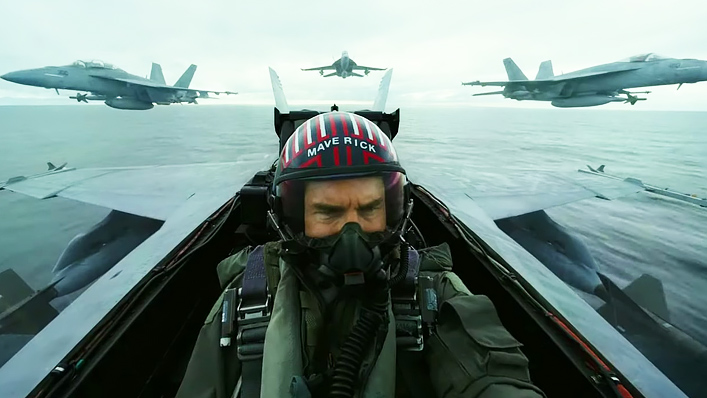 Back into the danger zone! What the Top Gun: Maverick trailer reveals

---
In a typically intense, Cruise-ian manner, Tom Cruise's Twitter account announced yesterday that we would be getting a new trailer for the upcoming Top Gun sequel, Top Gun: Maverick. And if there's anything we know about Tom – besides from all the Xenu-worshipping stuff – it's that he's a hard worker, a one-man action movie industry. Peep the new trailer, and a handsome new poster below!
So what do we learn from this new trailer? The plot of the film is coming into sharper focus: Whiplash star Miles Teller will play the son of the original film's tragic sidekick Goose, who is now being mentored by Tom Cruise's indomitable Maverick. Teller is even donning a Goose-esque moustache in the trailer!
Like Father, like son. #TopGun pic.twitter.com/3Yndyn6cL8

— Tobias Tißen (@MrNiceGuybrush) December 16, 2019
We also know that Maverick's original love interest played by Kelly McGillis in the 1986 film will not be appearing, leaving room for Jennifer Connelly's character to potentially serve as Cruise's new squeeze? Who knows. At least it looks like this new film will feature more sporty shenanigans on the beach, in the same testosterone-spiked spirit as the Playing With The Boys volleyball scene in Tony Scott's original.
Val Kilmer is also confirmed to return as Maverick's rival pilot Iceman. But quick shots in the trailer of Maverick tearfully saluting what looks like a US Navy funeral do not bode well for the beloved character.
Sign up for Flicks updates
Apart from the trailer's adrenal, sun-soaked visual snippets, this is the only official synopsis provided:
"Facing an uncertain future and confronting the ghosts of his past, Maverick is drawn into a confrontation with his own deepest fears, culminating in a mission that demands the ultimate sacrifice from those who will be chosen to fly it."
Sounds like Cruise's character will probably be called on to give his life for the younger generation of fighter pilots, right?
Replete with a rousing, melancholy version of the film's iconic theme, this trailer looks to be flying high on nostalgia for the 80's action drama, and viewers are feeling the need for speed.
Me after watching the trailer #TopGun pic.twitter.com/BLbkYktv0w

— Edward Sanchez (@edwardistheman) December 16, 2019
I'm going to go to sleep tonight in the hope that when I wake up tomorrow it's the 26th of June #TopGun https://t.co/LGvftcOMxj

— Mike Ling (@MikeLingPilot) December 16, 2019
Get ready for Top Gun: Maverick to fly you right into the danger zone on June 25 next year.