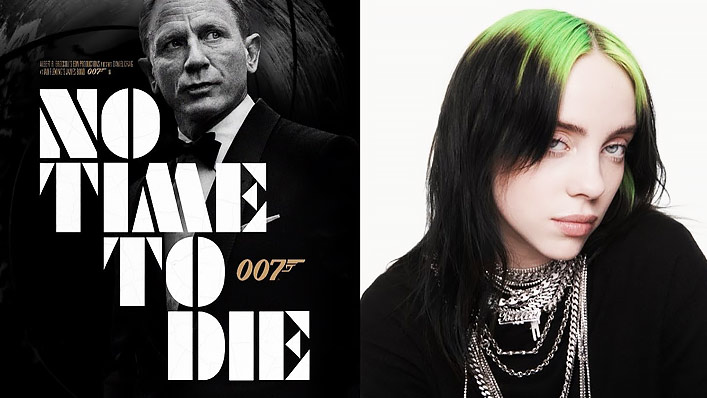 Billie Eilish's Bond song for No Time To Die is delicate, sad and kinda sinister

---
Fresh off her tear-jerking Beatles cover for this year's Oscars In Memoriam segment, American singer-songwriter Billie Eilish is starting to make a name for herself as a distinctly cinematic performer. Her music video and tour visuals have always been pretty top-tier horror movie stuff, but now she's gaining influence in one of cinema's most iconic franchises.
Sign up for Flicks updates
The upcoming James Bond film No Time To Die, marking Daniel Craig's last outing in the starring role, comes out April 8, and the eponymous theme song has been published to Youtube.
Eilish's hushed vibrato vocals and the song's weepy lyrics are a bit reminiscent of the most recent Bond song, Sam Smith's Oscar-winning Writing's On The Wall. But there's also some obvious Eilish flourishes stuffed in there by the singer and her producer/brother Finneas.
For one, the song continues a metaphorical theme that popped up a lot in Eilish's debut album When We All Fall Asleep, Where Do We Go?. The concept of being betrayed and/or rejected by a lover was reflected in the lyrics "was I foolish to love you/was I reckless to help/was it obvious to everybody else?" Hopefully James Bond doesn't have to go through a similiar kind of heartache in the new film, considering he's reuniting with his Spectre love interest played by Lea Seydoux.
There's also some notable sonic cameos in the song, from legendary film composer Hans Zimmer who's responsible for those lush Shirley Bassey-esque strings, and The Smiths' guitarist Johnny Marr, presumably brought in for a lil British flair. No Time To Die does a great job synthesising together that unavoidable, sinister Bond chord progression with a gorgeous, weepy vocal performance – see some of the behind-the-scenes recording process below!
Behind the scenes of the orchestra playing "No Time To Die" in the song pic.twitter.com/EK1WXCDVTy

— eilishupdates media (@eilishupd8s1) February 14, 2020
If this writer had to find something to complain about, it would be that the past two Bond songs have been big sad ballads, and that Eilish's usual kooky production and thumping beats could've brought a more hip, interesting texture to the franchise for Daniel Craig's last turn as the character. But! It's still characteristically eerie and beautiful, and bodes well for the upcoming film.