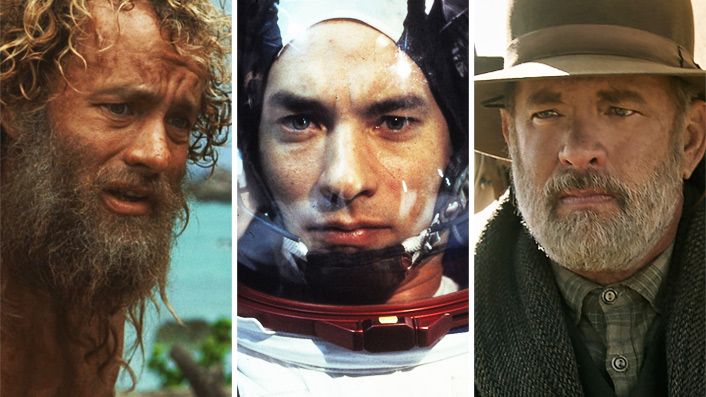 Tom Hanks' 10 best: from dating mermaids to reading the news

---
Sometimes described as 'the Jimmy Stewart of his generation', the ever-reliable Tom Hanks delivers another compelling performance in News of the World. Critic Sarah Ward picks the 10 best roles of his career so far.

Tom Hanks has been an acting treasure for so long, it's easy to forget that his big screen career started out in high-concept comedies—and that he brought the same commitment and accessibility to those early roles that he has to his more serious subsequent efforts.
With News of the World, Hanks adds another excellent performance to his name, slotting in alongside plenty of memorable parts. From ageing rapidly to fighting off pirates and flying into space, we've picked his 10 best.
In Hanks' first major film role, he fell in love with a mermaid. Directed by Ron Howard, Splash co-stars Darryl Hannah as Madison, the fish out of water who catches the eye of Hanks' Allen Bauer and upends his sense of normality. Even now, the 1984 romantic comedy is never as cheesy or as silly as its concept sounds, thanks in no small part to both Hanks and Hannah. There's warmth in their performances, and far more depth than the premise calls for—especially given the film's supposedly sweet but also quite bleak ending.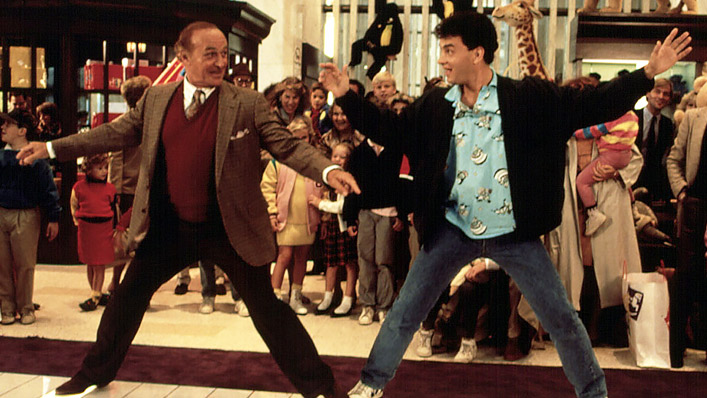 Big (1988)
Comic performances rarely receive Oscar nominations, but Hanks earned his first for Big. That's unsurprising; he's tasked with seeing the world through a child's eyes while playing a likeable everyman. As well as perfecting that combination, he turns it into a showcase part. After 12-year-old Josh Baskin (David Moscow) slips a coin into a fortune-telling Zoltar arcade game, makes a wish and wakes up as an adult, Hanks beams with sweetness and curiosity—and the sorrow of someone literally forced to grow up before their time. From the corn scene to the FAO Schwartz piano, he also shows off his physical comedy skills.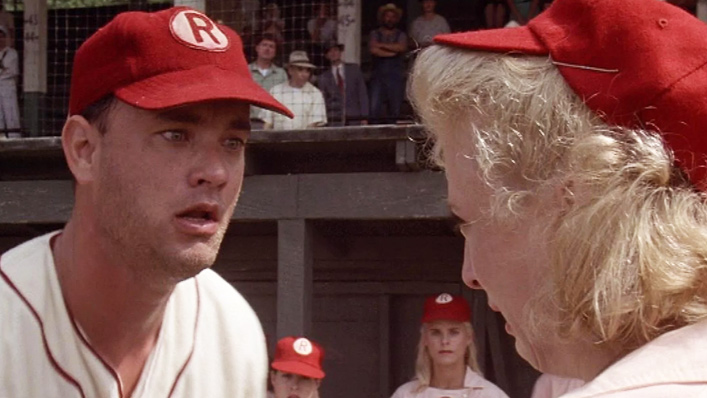 Hanks has starred in two movies directed by Penny Marshall: Big and A League of Their Own. Both gifted him memorable parts, although that really shouldn't have proven the case with the latter, which tells a fictional tale based on the All-American Girls Professional Baseball League. Accordingly, given the storyline, Hanks' gruff character Jimmy Dugan—an ex-Chicago Cubs star-turned-manager—shouldn't rank among its highlights. But think of A League of Their Own, and his line "there's no crying in baseball" immediately comes to mind.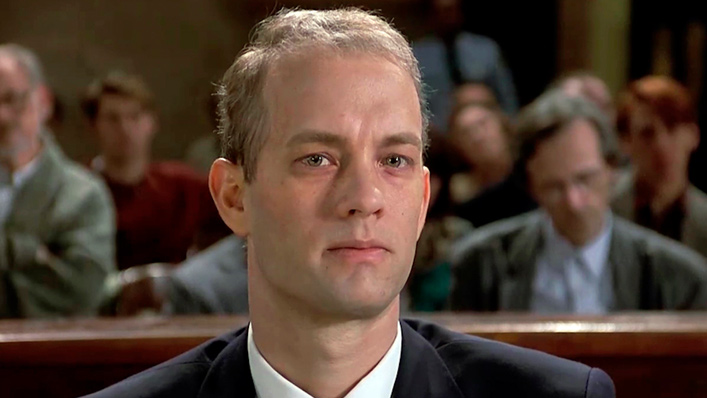 This 1993 drama won Hanks his first Oscar, but also did something far more important—nudging his career away from the comic roles he'd been favouring, towards dramatic parts. Playing Andrew Beckett, a lawyer who is fired after being diagnosed with AIDS, Hanks is exceptional. He's in outstanding company thanks to Denzel Washington, but this is always his film. When Philadelphia was originally released, it reshaped the way Hollywood thought about Hanks—and features one of his best performances.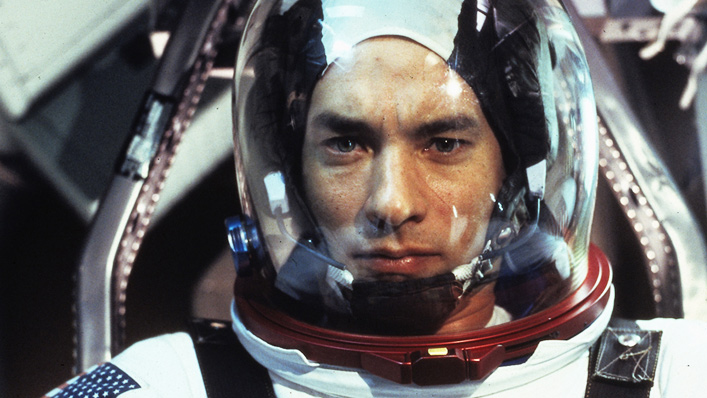 Marking the first post-Splash reunion between Ron Howard and Hanks (let's just forget the three others afterwards: The Da Vinci Code, Angels & Demons and Inferno), this space drama hits every mark and beat it needs to. Hanks' efforts fit that description as well; indeed, Apollo 13 is the epitome of a solid film. Stepping into the space boots of the mission's commander Jim Lovell—a man who approaches his task with the utmost professionalism—it's the role he simply had to play.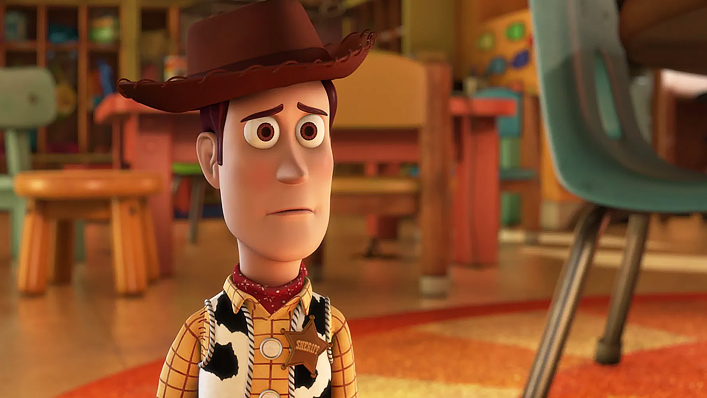 In the same year that Hanks soared into the sky in Apollo 13, he verbally battled with another astronaut in a different movie. Accustomed to being the favourite plaything in the toy box, the Hanks-voiced cowboy doll Woody doesn't take kindly to the arrival of Buzz Lightyear (Tim Allen)—but that's just the storyline of the first Toy Story film. If it's possible to turn a kid's toy into an everyman character, then this franchise achieved the feat, all via Hanks' voicework. As stellar as it is, it's likely that Pixar's first feature wouldn't have had the same impact without its main star.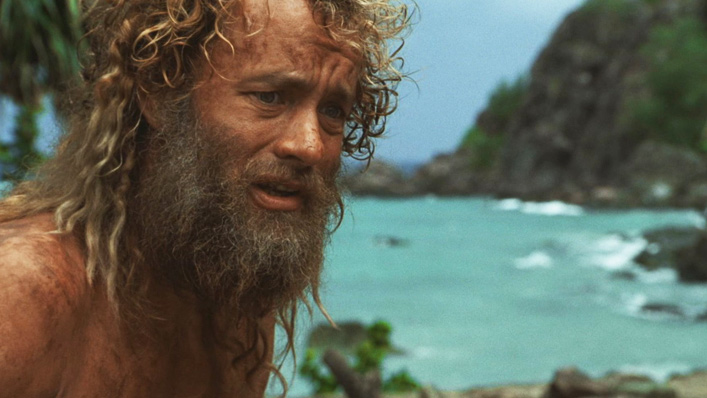 If there was an award for 'Most Hanks', Cast Away would receive it. For much of the film, Hanks plays the only human character on-screen. But survival dramas frequently showcase their stars' versatility, and this Robert Zemeckis-helmed addition to the genre is no different. As you'd expect of someone who's stranded alone on an island, Hanks' character, Chuck Noland, rides an emotional rollercoaster. Little about how the actor expresses those feelings proves routine or stock-standard, however. That's what makes Cast Away work—because even when its script proves familiar, Hanks rarely does.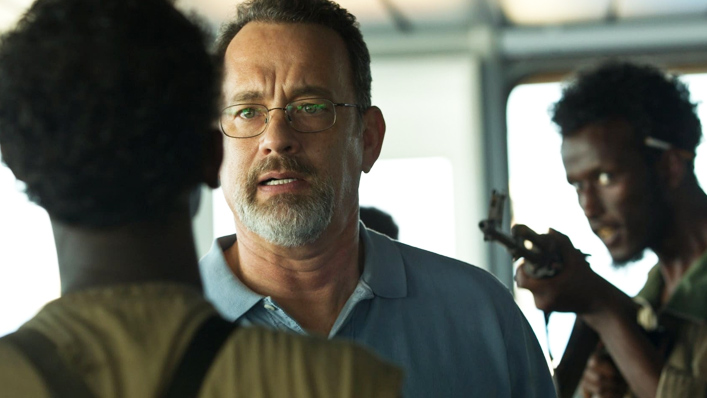 Playing a container ship captain whose route from Oman to Kenya is hijacked by armed Somali pirates, Hanks is particularly excellent in Captain Phillips' second half. He isn't terrible in the opening section by any means (Hanks is rarely terrible in anything) but, under the direction of Paul Greengrass, he makes the absolute most of this thriller's big moments and intense climax. There's a weightiness to his work here, as there should be considering the subject matter, with Hanks bringing the steeliness, determination and vulnerability his complex role calls for.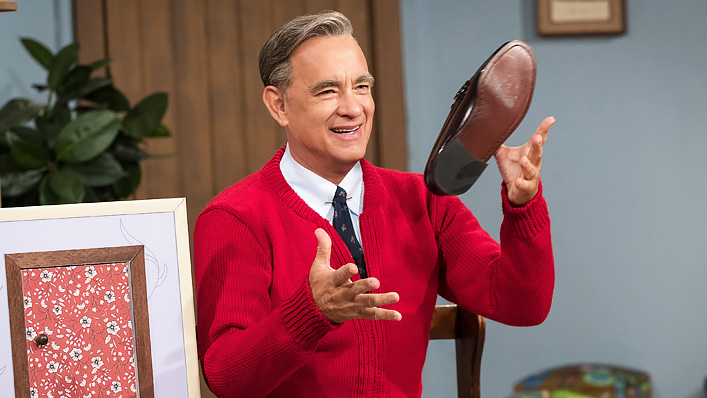 In The 'Burbs, one of the Hanks-starring films that didn't make it onto this list, the actor's character spends time watching Mister Rogers' Neighborhood. That was back in 1989. Three decades later, Hanks put on the beloved children's television presenter's red cardigan himself. Hanks has never been better than he is in Marielle Heller's warm and moving A Beautiful Day in the Neighbourhood. There's not just empathy, compassion and patience in his performance, but also grace, strength, candour and earnestness. He is simply sublime.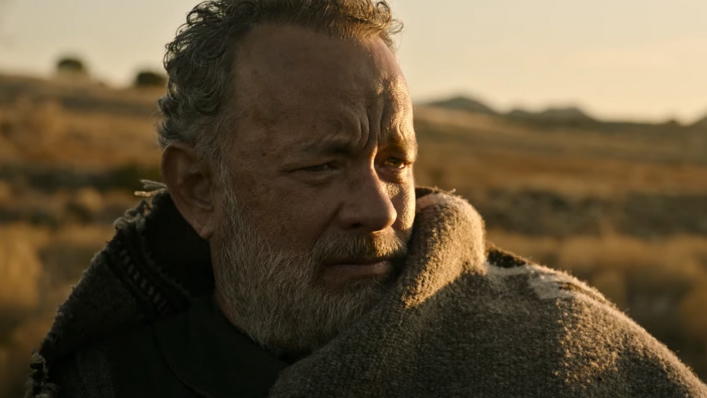 In News of the World, Hanks strolls into the western genre and makes the world mourn. He's so affecting as former soldier-turned-travelling newsman Captain Jefferson Kyle Kidd, it's hard not to be sad that this is his first-ever performance in an oater. The genre suits him and his penchant for letting a character's woes scratch away deep behind his kind eyes. So, in his second collaboration with filmmaker Paul Greengrass (following Captain Phillips) he makes the most of it—whether Kidd is reading the latest papers to crowds of townsfolk or escorting a young girl (Helena Zengel) to safety.